Although he has died, Mehboob Gaus Shah Qadri, also known as Syed Bhai's work of reformation in the Muslim community, will not be forgotten. He was a veteran social activist who fought to end the Triple Talaq practice and an advocate of equal civil rights for Muslim women. But, he was once a staunch follower of the Ahl-e-Hadith sect. He turned his Islamic thoughts of fundamentalism when his sister became a victim of the same. After his sister suffered, he unfollowed the same practices and started reformative work within the Muslim community.
Ahl-e-Hadith is a Salafi movement that emerged in North India in the mid-nineteenth century from the teachings of Sayyid Ahmad Shahid, Syed Nazeer Husain and Nawab Siddiq Hasan Khan. It is the movement initiated within Sunni Islam, which is against Shia Islam. The name derives from advocating a return to the traditions of the 'pious predecessors' (salaf), the first three generations of Muslims that are believed to exemplify the pure form of Islam. Those generations include the Islamic prophet Muhammad and his companions whom he himself taught (the Sahabah), their successors (the Tabi'un), and the successors of the successors (the Taba al-Tabi'in).
Syed Bhai experienced a shocking incident which questions his Islamic thoughts. His sister was orally and unilaterally divorced by her husband. Syed Bhai contacted several Muslim clerics and other congregations against the way of divorce. But they refused to intervene on the basis that it was a matter of religion. There was only a following of Islamic law within the community regarding marriage and divorce. These circumstances not only gave Syed Bhai the courage to live his life in a new way but also gave him the courage to face the patriarchy within Islam. The question entered his mind: Why does only a man have the right to oust a woman from his life by uttering the word Talaq thrice?
He fought with himself over this question as his religious followings and practices of Ahl-e-Hadith came against the question. Meanwhile, he came in contact with a group of socialists working against gender and caste-based discrimination in Pune. It was here that he got in touch with Hamid Dalwai. In search of justice,
Syed Bhai
placed his trouble before Hamid Dalwai, atheist and founder of Muslim Satyashodhak Mandal, but his life took a different turn.
Born in a Marathi-speaking Muslim family on September 29, 1932, after his matriculation, Hamid Dalwai joined the Indian Socialist Party of Jai Prakash Narayan. But to devote himself to social reforms in the Muslim community, especially regarding women's rights, Hamid Dalwai left the political organisation. Despite living in a period when Muslims were staunchly religious and orthodox, Hamid Dalwai was one among the very few Muslim secular people. To create a platform for his views and work, he established the Muslim Satyashodhak Mandal (Muslim Truth Seeking Society) in Pune on March 22, 1970. Through the medium of this Society, Hamid worked towards reforming bad practices in the Muslim community, especially towards women.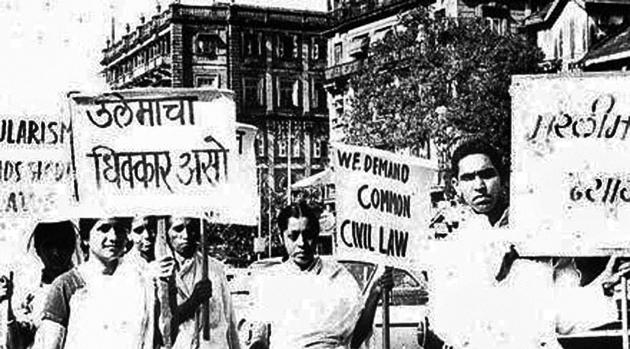 Describing its purpose, Dalwai stressed inculcating modern values of social harmony and the spirit of nationalism free from religious prejudices in the Muslim community. Hamid Dalwai died in 1977 at the age of just 40, but his fight against Islamic fundamentalism was carried forward by his wife Mehrunnisa Dalwai with the support of people like
Syed Bhai
. However, the group faced many difficulties in this work.
Around 1980,
Syed Bhai
associated himself with the struggle of Shah Bano. Seeking justice for Shah Bano,
Syed Bhai
also met the then Prime Minister Rajiv Gandhi several times. Sayed Bhai told him that even a progressive Prime Minister like him did not stand with Shah Bano, although a favourable decision of the Supreme Court in this matter, then in the next election, his Congress party would not get a single Muslim vote. However,
Syed Bhai
did not become weak after his suggestion was not considered by then Prime Minister Rajiv Gandhi.
In his book, 'Dagdavarchi Perani',
Syed Bhai
quoted the speech of AAA Faizi, the great scholar of Islamic law and jurist, in Pune in August 1970 - "Blind imitation of any religious law in today's world is not going to do anything. There is a lot in the Qur'an, which is timeless, but there are also many things that were correct from the point of view when Islam was born. In such a situation, before following the path prescribed in the Quran, it is necessary to see how practical they are in today's condition." In the same speech in Pune, Faizi said that both religion and law should keep completely separate and he also explained how many disadvantages are there if not doing so.
Syed Bhai
was born in a poor family in Hyderabad but brought up in Pune, where his father worked in an ammunition factory, and his mother worked at home. He was not able to attend school properly. At the age of 13, he left his studies and had to work in a pencil making factory. However, it has been said that in front of his knowledge, his courage, the words of great scholars, prominent advocates of denying the right of equality to Muslim women and supporting fundamentalism, had been stopped.
In 2017, Syed Bhai and other activists of the Muslim Satyashodhak Mandal met Prime Minister Narendra Modi and demanded a ban on polygamy, nikah and halala.
Due to old age (87 years old) and respiratory problems, Syed Bhai's condition worsened, and he died while undergoing treatment in Pune, Maharashtra. Syed Bhai was honoured with Padma Shri in 2020 for his courageous reformative work within the Muslim community because several Muslim reformists have been killed across the world while doing their reformation work. Although the PM Modi-led NDA Government abolished the practice of Tripple Talaq, the several other evil practices that Syed Bhai demanded for abolition need to be repealed by Constitutional law for Muslim children and women empowerment, which will be the best tribute to Syed Bhai.